Looking to escape the 9-5?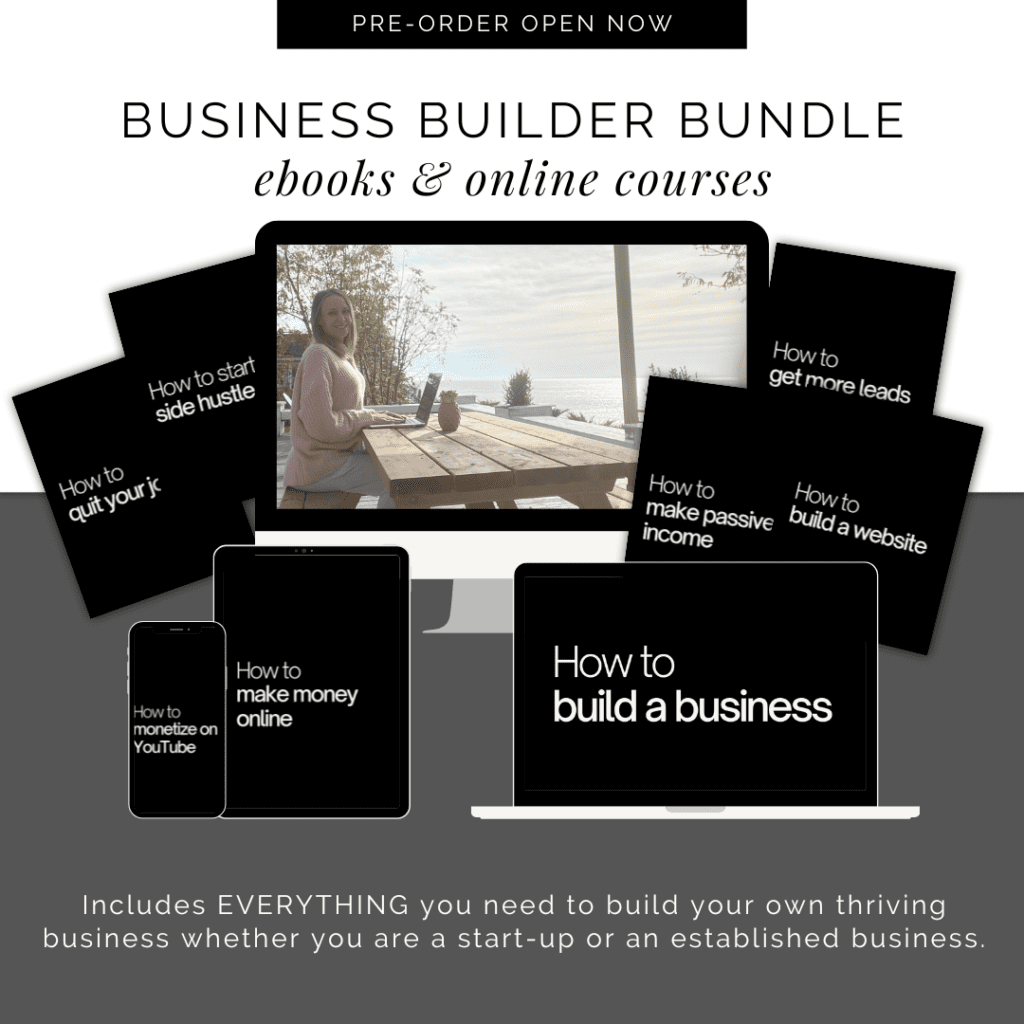 Look no further! Take control of your life and love the life you live.
Includes EVERYTHING you need to build your own thriving business whether you are a start-up or an established business.
Introducing the Business Builder Bundle – Your Path to Success!
📚 Unlock the power of knowledge with 16 insightful ebooks and master 16 comprehensive online courses, all tailored to supercharge your business journey.
🌎 The Business Builder Bundle isn't just a package – it's your global business solution. Whether you're a budding entrepreneur or a seasoned pro, I'm here to provide step-by-step guidance on building your brand, crafting a compelling website, honing your marketing skills, and attracting those coveted leads.
📌 Don't miss this opportunity to transform your business dreams into reality. Pre-order now and take that critical step towards becoming a business powerhouse!
🚀 Act now and secure this invaluable bundle for only $777! (Hurry, prices will skyrocket to $2500 after the pre-order period). Choose the option that suits you – pay in full or enjoy the convenience of monthly payments.
BUT if you order in the next 7 days I'm offering one business coaching call a month for one year to support, educate and motivate business owners for FREE. I'll provide recommendations for your company's vision, growth and goals. Also, I'll provide motivation but also implement and prioritize strategies to help your business grow. (Regular pricing is $100 an hour)
The Business Builder Bundle is perfect for those looking to start or grow a business anywhere in the world. I provide step-by-step instructions to build your brand, website, marketing and so much more while landing you the leads your business is looking for.
List of included ebooks and online courses
-How to start a side hustle
-How to quit your job
-How to choose a business
-How to build a business
-How to brand a business
-How to build a website
-How to build a blog
-How to build an online business
-How to market your business
-How to create content for social media
-How to monetize on YouTube
-How to make money online
-How to use Canva for your business
-How to use ChatGPT for your business
-How to get more leads
-How to make passive income
Master Resell Rights
One-time purchase, then the ENTIRE bundle is complete YOURS! You can get started right away! Get step-by-step training on EXACTLY how to start making money online in the most BEGINNER-FRIENDLY way possible!
One price, one time, and the training and product are ultimately YOURS to rebrand and sell as your own for 100% profit.
What Is Included In Your Purchase:
Comprehensive business, marketing, and automation bundle with over 16+, easy-to-follow training modules designed for the COMPLETE BEGINNER!
Completely self-paced in-depth training ebooks and videos that show you EXACTLY how to get your business set up!
Access to ongoing coaching, updates, and community support with absolutely no monthly fees or charges!
An in-demand digital product – THE COURSE ITSELF! Done for you and ready to be sold for 100% profit. That profit ALWAYS goes directly to YOU because the course is now YOURS!
EVERYTHING IS INCLUDED!
One-time purchase and the entire bundle is yours!
Trust me, I have been where you are. I was the BIGGEST skeptic! But, working full-time as a graphic designer, while being a full-time mom, I always felt like there was more to life than just working for the weekend to finally have time with my family. My life truly changed once I realized how many amazing, REAL opportunities there are to make money online and offline!
Let me save you time! I am here to tell you this is REAL, this is LEGIT! This is an amazing opportunity that allows you to resell this bundle for 100% profit. But not only that, you can use my ebooks and online courses to create and sell your own products and services in the future!
Your potential is LIMITLESS with this bundle! You just have to get started!
~ Veronika
Pre-order now for $777 before price increases to $2500
By pre-ordering you are purchasing the entire Business Builder Bundle which includes 16 ebooks and online courses. If you order before August 28th at 11:59PM you'll also receive one business coaching call a month for one year.